Open Science and Intellectual Property Rights. How can they better interact. State of the art and reflections¶
Report of Study - Updates¶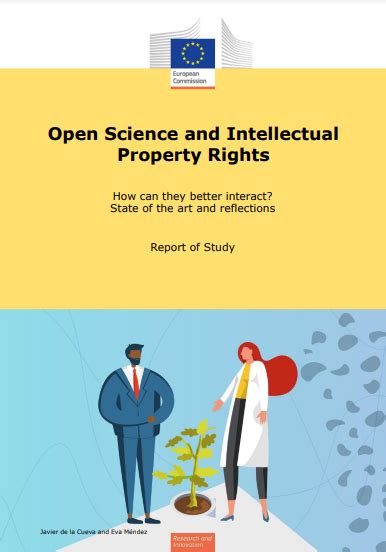 In December 2020, Eva Méndez and Javier de la Cueva received a challenging petition from the Directorate-General for Research and Innovation of the European Commission: to study how Open Science and Intellectual Property Rights (IPR) could work together and to issue a report with their findings. The document should be a literature review / State-of-the-Art about Open Science and Intellectual Property Rights (IPR), addressing the main issues related to the topic, including:
Exploitation of research outcomes in an Open Science paradigm.
Intellectual property rights in the collaborative research environment.
IPR of research data and other outcomes different from "traditional" publications.
Scope and meaning of the "as open as possible, as closed as necessary" principle from the perspective of the IPR.
It was the time of the pandemic. Eva Méndez was locked in Australia and Javier de la Cueva was based in Madrid so they shared an online document, a Zotero database and they begun their work. Less than one year later, in September 2021 a final version was presented to the Commission. After some modifications, in April 2022 the Commission published two separated documents: the executive summary and their version of the original sent by Eva Méndez and Javier de la Cueva.
https://research-and-innovation.ec.europa.eu/knowledge-publications-tools-and-data/publications/all-publications/open-science-and-intellectual-property-rights_en
This website publishes the original version sent to the Commission (the preprint version), which represented the voice of the authors. Additionaly the original content is now updated with the relevant Open Science or legal developments as they appear. Updates are marked as such in this website to differentiate them from the original version.
This website is not related with the European Commission and is a personal work of the authors of the report.
The authors¶
Dr. ​Eva Méndez holds a PhD in Library and Information Sciences (LIS) and is an expert in metadata and open knowledge practices from different perspectives. She has been a lecturer at Universidad Carlos III de Madrid (UC3M) since 1997 and is an active member of several international research teams, advisory boards and communities including: DCMI, OpenAire, Metadata2020, RDA, etc. She has taken part in and led several research projects and acted as advisor to many more in the fields related with Open Science, open/FAIR data, metadata, digital repositories and infrastructures, in addition to information policies. She is currently on sabatical after being Deputy Vice-President for Scientific Policy-Open Science at UC3M and was the chair of the European Open Science Policy Platform for the 2nd mandate and Research Data Alliance ambassador for interdisciplinary research.
Dr. Javier de la Cueva​, holds a Law degree, a master in Advanced studies in Philosophy and a PhD on philosophy. He works as a lawyer, as a scholar and as a researcher. As a lawyer he is specialized in IPR. He has lectured at different universities a diversity of subjects, all related to his practice or his academic specialization: Communication and Law, Intellectual Property, Professional Deontology in Computer Science, Bases of Sociology and Anthropology, and Ethics and Computers Law. As a researcher, he is involved as member of the consortium in several European Horizon projects, with different responsibilities (RICHFIELDS, FNS-Cloud, COMFOCUS, FISHEUTRUST and SIESTA), has been named one of the EOSC FAIR Champions and is member of the pool of evaluators of Open Science projects at the Swiss Universities Association.